In the manufacturing industry following success factors play crucial role: manufacturing right products – in right quantities, with a right timing and within a price range that clients are willing to pay. However elasticity and constant product developments improving efficiency are equally important.
myConsult offers to the manufacturers of automotive spare parts ready-to-use solution fitting their specific needs:
Managing mid- and big-lot production,
Planning and performing production processes,
Full identification of production batches,
Full processing of orders (including EDI – Electronic Data Interchange protocols),
Managing SCM elements,
Registering logistics and manufacturing operations using mobile devices,
Monitoring of production machinery efficiency – with the use of OEE methodology,
Full integration with administration modules: Accounting, Human Resources, CRM, Budgeting of Sales and Procurement,
Business Intelligent data warehouse – with self-generated analyses and reports.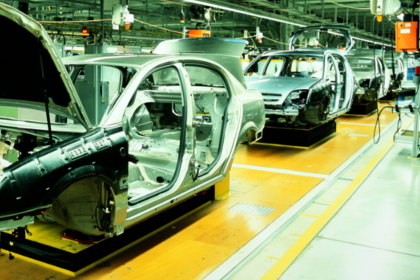 Benefits of Comarch ERP XL for automotive company
With the support of Comarch ERP XL suite, companies specialising in manufacturing processes are able to:
Integrate communication and cooperation. Communication between various departments (e.g. design, manufacturing) and stakeholders (subcontractors) can be now fully synchronised. For example, once design department inputs modification in the project, detailed information is instantly transferred to production department. To reach compatibility of production processes with operations of subcontractors, solutions enabling communication should be integrated with the ERP system. Such functionality is managed by EDI system and SCM elements.
Offer high-quality services to their clients. Signing a sales contract and closing a deal is only part of business success. Company has to provide high-quality post-sales service in order to gain customer loyalty. Thanks to Comarch ERP XL suite, our clients can monitor projects run by them at any stage of development. Our product gives access to detailed information about company clients (based on the relationship history).
Manage financials: cashflows, receivables and liabilities. It is possible to effectively fit client needs with company, by maintaining standardized production line and using previous experiences concerning the specific client to define suggestions about the most efficient equipment. Solutions constituting Comarch ERP XL suite can support planning of manufacturing of standardized components, which leads to time-to-market reduction. Comarch ERP XL enables to save client's requirements and use that information in further orders.
Elastic production planning. In order to support efficient reactions for changing demand and specific client orders, solutions integrated in Comarch ERP XL suite support following production modes:
On-demand design and manufacturing
Manufacturing for inventories, as well as mixed/hybrid modes
System users set and define good practices and expected execution mode of planning system.
Effective project management. Proper project management should take into account such resources like materials, efficiency of the manufacturing site, engineers, servicing staff, critical paths and downtimes which allow to timely deliver products. It enables to define level of completion of specific tasks and provides information describing general project status. By utilising functionalities of the Comrach ERP system, it is possible to create budgets, manage settlements, browse current costs and control resources related to the project.
We recommend following products for manufacturing industry:
To learn more about our products and request presentation, please contact us.