Comarch ERP Altum

Comarch ERP Altum
is a modern and intelligent ERP platform, managing all key processes in large enterprise. This solution has been developed thanks to multiple years of experience of Comarch in the ERP segment. ALTUM combines innovative technology with best business practises and know-how of Comarch consultants.
Altum is an ideal solution for medium and large enterprises, such as wholesalers or large retail chains for whom:
Standard ERP solutions are not sufficient,
Significant customization to client needs is crucial.
Platform can be successfully utilised by:
Polish and international enterprises operating on international market,
Enterprises requiring tools to manage specific business processes,
Enterprises willing to integrate their ERP system with other systems or solutions used by their suppliers and clients,
Clients, for whom it is important to manage diffuse structures.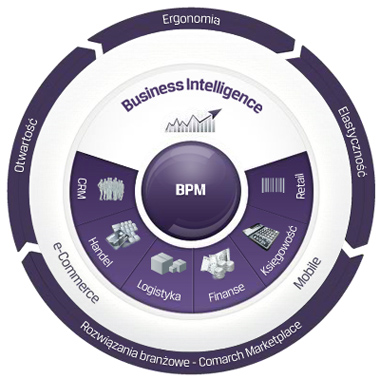 CRM

Comarch ERP Altum CRM is a tool that manages relationships with the customers and business partners, offering transparent records of activities, associated with acquiring, servicing and cooperating with contractors.
ALTUM CRM allows for collecting and managing complete set of information about contractors, as well as further processing that data at later stage. This tool is giving opportunity to its users to take part in the business processes and manage relationships with clients in fast and intuitive way.

Accounting
Comarch Altum platform is a solution supporting daily activities of finance & accounting departments. Functionalities of Comarch ERP Altum enable to automate many processed that so far required manual work. Work of an accountant with the platform resembles managing the accountancy rather than performing accounting activities themselves.

E-Commerce
Comarch ERP Altum enables to increase sales volumes through wide range of possibilities offered via internet. The platform is integrated with eCommerce solutions that give access to new, unexplored market segments (
eCommerce platform Comarch ERP e-Sklep
) and to strengthen relations with business partners and with simultaneous reduction of costs associated with their processing (B2B platform 'Comarch Pulpit Kontrahenta').
Mobile solution
Usage of mobile technologies in the business is becoming more and more popular and leads to measurable benefits for the company. Expanded functionalities of the platform Comarch ERP Altum can be further built-up to a new range of mobile services.
Example modules of Comarch Mobile to be used on smartphones and tablets:
"Comarch ERP Mobilny Sprzedawca" – Mobile trade
"Comarch ERP Mobilny Magazynier" – Mobile warehouse
"Comarch ERP Zarządzanie" – Mobile management
More information about Comarch Mobile

Business Inteligence
Running large enterprise requires taking hundreds of business decisions per day – both at executive and more operational level. To make this decision process more adequate, it has to be supported by the flow of current data. But how to manage a situation in which the problem is not lack of data but its overabundance?
In middle-sized companies each day the amount of data generated is so big that any human brain is not capable to process it. Most of business solutions available on the market are not offering sufficient support, that is why Comarch ERP Altum has been equipped with Business Intelligence analytical tools, that is integral part of the system.

Current companies operate based on processes that contain their know-how and give them competitive advantage on the market. Platform Comarch ERP Altum has been equipped with built-in Workflow tools, that enable to inscribe those processes in the enterprise system and human operations. User using Workflow Editor one can create graphical model of the processes what simplifies significantly further analyses, implement fast workflow modifications and detect and improve possible technical issues.
Process workflow allows for more efficient management of key business areas and relations between them. Actions initiated by one of the users automatically cause necessity of reaction by other process participants. Comarch ERP Altum takes care of delivering right messages to their recipients, and if needed, system initiates reminders and alerts. BPM (Business Process Management) area enables to be involved in the business processes not only from the level of the platform, but also through email boxes.
It facilitates communication with employees, suppliers and clients. Additionally, thanks to contextual feature of the workflow, with one click users can include objects in the process flow, selecting them e.g. from the contractors' list. All of that to make advanced tool simpler and more intuitive to use.
Task box
Messages generated by users in the BPM area land on the Comarch ERP Altum platform in specifically designed task box, which is integrated with MS Outlook. Such solutions enable faster management and steering of the processes, without entering the platform interface. One of the main features of the BPM is its open architecture.
On one hand it gives an opportunity to integrate Comarch ERP Altum with any applications used in the enterprise or automating their work. On the other hand, open architecture allows to freely model and modify processes, depending on user requirements and market conditions.