In manufacturing companies very important factor is to optimally utilise manufacturing resources, timely execute orders and maintain high level of products quality. It is also necessary to register, settle and analyse all, also indirect, costs associated with production process.
ERP Managing production system

One of the solutions for efficient and effective management of a manufacturing company is to utilise integrated system called Comarch ERP – XL, which enables to reduce costs and level of unnecessary inventories stored in warehouses, and on the other side increase efficiency of its employees.
Comarch ERP XL provides comprehensive support in managing production processes (both mass and unit production). End products are manufactured according to precisely defined norms and technological standards, what results in reduction of product defects. In case of manufacturing products of a low quality, system user has possibility of fast identification of the faulty items directly in the system.

Important system functionalities, from the perspective of manufacturing company specificity
Comprehensive support in managing production processes – with possibility to create technological cards describing specific production stages,
Project scheduling (including availability of resources),
Planning of production pipeline in a way, which allows to meet defined delivery dates,
Simple interface to manage production, which can be operated via touch-screen devices,
Managing entire path of documents typical for the manufacturing industry,
Possibility of monitoring raw materials leftovers,
Optimization of storing materials in the warehouse,
Efficient project management, including project budgeting functionalities,
Advanced search functionalities, e.g. allowing to identify suppliers of any raw material,
Complex support of all enterprise departments, including logistics, HR, accounting, customer relationship.
Registration of production process
Comarch ERP XL suite enables to register production process (to include among others exact production time, used resources, utilised raw materials) with extended information about origin of resources or products at the of level of single production lot. Thanks to elastic mechanisms of defining production processes is it possible to use the module in operating production line, data processing (data crunching, sorting, etc.) or performing production within specific projects.
Expanded mechanism of settling production enables to associate costs from different sources to all manufacturing objects within multiple categories. Costs can associated based on various documents, e.g. sales document, accounting document, payroll, account balance or other cost objects. Apart from that it is possible to associate costs not having direct origin, e.g. additional margins. As a result any company can calculate real costs of manufacturing each of the products in very precise way.

BUSINESS INTELLIGENCE
One of the most important aspects in managing an enterprise is possibility to analyse production and financial standing of a company. This process can be supported by BUSINESS INTELLIGENCE tool. Thanks to that, management staff is equipped with clear tables, charts and maps, which inform what is happening in the company, and as an outcome give them opportunity to make more adequate decisions.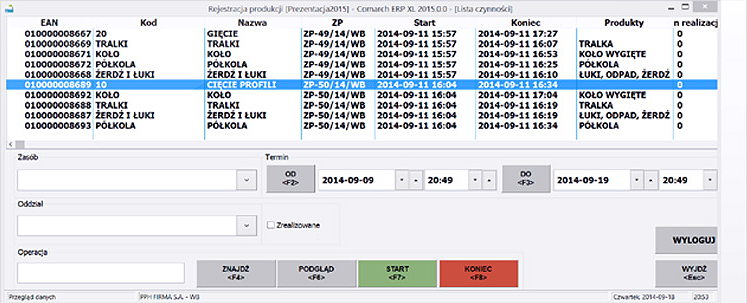 Automation of the production is possible with the use of barcodes and touch-screen pads at the production spots.


Editing Gantt chart enables to shift, stretch and squeeze time stripes.