Manufacturing process monitoring
Solutions offered by myConsult enable to efficiently gather real-time information, directly from production spots and to transfer it to the Business Intelligence system. Information about manufacturing being performed at the moment can be retrieved directly from manufacturing machines or on behalf of production staff.
Benefits from process monitoring
Increase in productivity
Increase in OEE parameter (Overall Equipment Efficiency)
Reduction of length of production cycles
Reduction of production costs
Better visualizations of production in progress
Reduction of planned and unplanned production downtimes
Improved quality of manufactured goods
System functionalities
Visual charts
Our system enables to transfer real-time and archived data in various time intervals and to present it in form of visual charts. Such charts can refer to individual pieces of machinery (working on specific shifts) or to aggregated machinery park. For clearer displaying of the data and trends multiple customization features can be applied (e.g. colour palettes data format).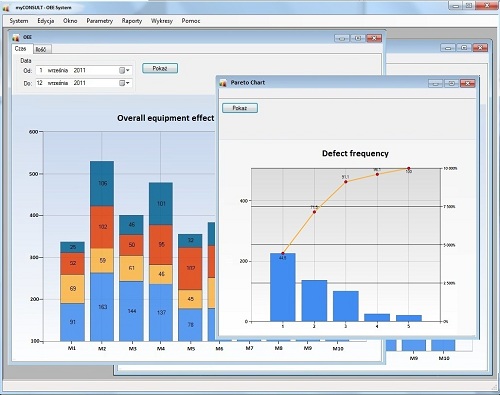 Reporting
Reporting system enables to generate in fast and simple way advanced reports that are based on aggregated data. All reports can be exported to Excel spreadsheets or saved as PDF format. On specific request we can easily expand reporting functionalities.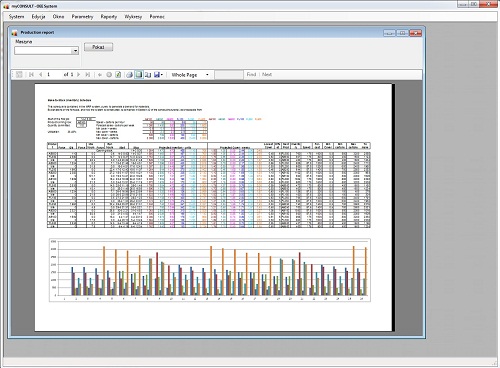 Results directly at a production floor
Following time and efficiency of machinery and staff;
Monitoring of downtimes (planned and unplanned);
Registration of downtime causes;
Following of output flows, split into:
Collecting information about defects and quality of manufactured pieces.
To control processes and increase quality of manufactured goods, it is possible to involve static control of the manufacturing process (analysis of control cards).
Data interaction with ERP/MRP systems:
Technology,
Identification of goods,
Personal data (identification of an employee on desktops).